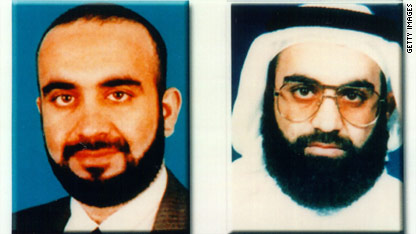 Posted: November 13th, 2009 08:43 AM ET
TOKYO, Japan (CNN) –Accused 9/11 mastermind Khalid Sheikh Mohammed "will be subject to the most exacting demands of justice," President Obama said Friday.
"The American people insist on it, and my administration will insist on it," Obama told reporters at a joint news conference with Japanese Prime Minister Yukio Hatoyama.
He was responding to a reporter's question about media reports that Mohammed will be tried in a federal court in New York, instead of by a military commission.
Obama would not confirm those reports, saying he did not want to preempt an announcement later in the day by U.S. Attorney General Eric Holder.
more
Accused 9/11 plotter Khalid Sheikh Mohammed faces New York trial
November 13, 2009 -- Updated 1633 GMT (0033 HKT)
Khalid Sheikh Mohammed reportedly confessed to being the mastermind of the 9/11 attacks after being waterboarded.
Washington (CNN) -- Five Guantanamo Bay detainees with alleged ties to the 9/11 conspiracy, including accused mastermind Khalid Sheikh Mohammed, will be transferred to New York to go on trial in civilian court, Attorney General Eric Holder announced Friday.
Mohammed, Ramzi Bin al-Shibh, Walid bin Attash, Ali Abdul Aziz Ali and Mustafa Ahmed al-Hawsawi will all be transferred to the U.S. District Court for the Southern District of New York -- a short distance from the World Trade Center towers that were destroyed in the September 11 attacks.
"After eight years of delay, those allegedly responsible for the attacks of September 11th will finally face justice," Holder said.
He said he expected prosecutors to seek the death penalty.
more